- By Aishwarya Javaglekar
The Gyan-Vapi (Well of Knowledge) in Varanasi lies near the Great Mosque of Aurangzeb and the present Vishwanath temple, the Golden Temple of Varanasi.
An old photograph of the Gyan-Vapi
The land around Gyan-Vapi has been considered sacred since historical times, and has had an eventful past. The original Vishwanath temple was destroyed by Qutb ud-din-Aibek in 1194 during a raid of Varanasi. In its place, he built the Razia Mosque. The temple was rebuilt in 1585 by Todar Mal from Akbar's Court, and was destroyed once again by Aurangzeb in 1669. He used the materials from the temple to build a mosque, calling it the Great Mosque of Aurangzeb. The Vishwanath temple, built once again under the patronage of Queen Ahilya Bai Holkar in 1776, still stands next to Aurangzeb's mosque.
Incorporation of the second Vishwanath temple in Aurangzeb's mosque
While the Gyan-Vapi lies in the mosque precincts, legend says that the original Vishwanath Shiva Linga (an object of worship personifying the god Shiva) is hidden inside the well. During the British period, the Gyan-Vapi was a pilgrimage destination for many Hindus, who believed the well water to be more sacred than the Ganges itself.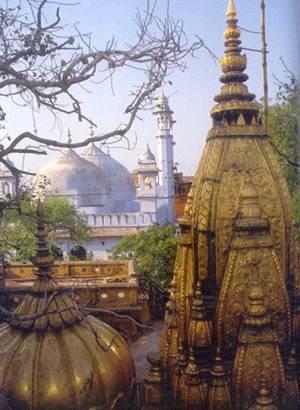 A view of the Gyan-Vapi mosque (left) and Vishwanath temple (right)
While some consider the well to be a testament to the tumultuous relations between Hindus and Muslims, standing on ground sacred for both religions and surrounded by Hindu, Muslim, Jain and Buddhist iconography, the well manifests the diversity of Indian culture and the city of Varanasi.